Kansans with Disabilities Develop a Heathy Lifestyle By Living Well with a Disability
---
Course facilitators bring their own creativity and innovation to the workshop, and have been inspired by their consumers to expand the program, to form continuing support groups, and to develop new subject areas such as budgeting. 
Three Rivers Receives Second Grant to Expand "Living Well" Program
Congratulations to Three Rivers Inc. in Wamego! The CIL received a grant of $25,000 from the Kansas Health Foundation to support its Living Well course for teens - specifically "to reduce risks for secondary health problems among teens with disabilities who live in Northeast, East Central and West Central Kansas."
This is the second time Three Rivers Inc. has received a Recognition Grant from the Kansas Health Foundation to support the Living Well with a Disability program. Last year the foundation awarded it $22,300 to expand the Living Well classes. Funding enabled them to purchase supplies, provide a transportation stipend to consumers, and have a dietician visit and prepare an inexpensive healthy meal at least once a session.
Audrey Schremmer-Philip, Executive Director of Three Rivers, said the Living Well program fills a growing need: "I think with all the health news in the media, our consumers are realizing they need to do something for themselves."
Facilitator Trainings
The RTC/IL provides free training to staff members at community-based organizations who will facilitate Living Well sessions. Here are a few of those who have gathered for training since 2009.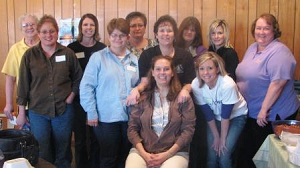 Staff from Three Rivers CIL (left) gathered in Clay Center to take facilitator training for the Living Well. They are offering the workshop in the CIL's six office locations.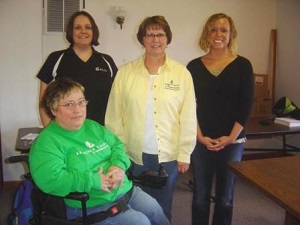 Resource Center for Independent Living (RCIL) staff members (left and below) were trained at the home office in Osage City.