RTC Partners on Project To Improve Employment Outcomes
---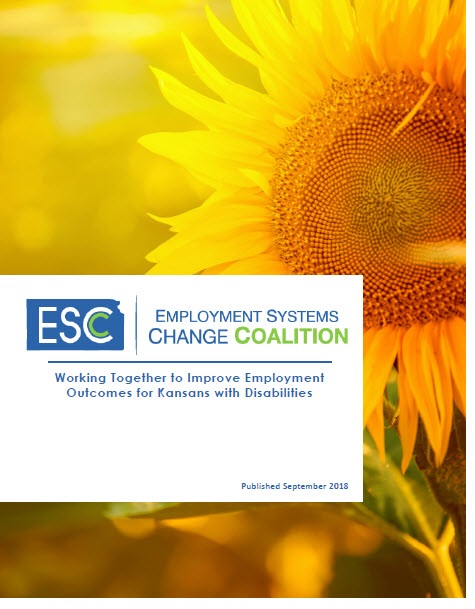 In 2015, the RTC on Independent Living began working with seven other Kansas disability organizations to improve employment opportunities for Kansans with disabilities. The group, known as the Employment Systems Change Coalition (ESCC), was funded by a $199,500 Empower Kansans grant from United Healthcare.
The goal of the grant program was to increase employment among persons with disabilities and address systematic barriers to employment. In Sept. 2018, the ESCC group issued a report summarizing its findings and recommendations: Working Together to Improve Employment Outcomes for Kansans with Disabilities (PDF available upon request).
For more background on this project, see below.
---
Other members of the cross-disability coalition were: the Association of Community Mental Health Centers of Kansas, Autism Society–The Heartland, Disability Rights Center of Kansas, Kansas Association of Centers for Independent Living, National Alliance on Mental Illness–Kansas, SelfAdvocate Coalition of Kansas, and Skills to Succeed, which coordinated the effort.

The coalition created a comprehensive plan to address employment needs in Kansas. To accomplish this, they reviewed current state efforts and needs, gathered stakeholder feedback, researched best practices from other states, and provided technical assistance for training service providers in best practices.
RTC staff members Martha Hodgesmith and Val Renault led the stakeholder feedback sessions, adapting a community engagement model that the RTC has researched and applied in several other projects, including the Community Engagement Initiative Knowledge Translation Research Project and two RTC/IL projects focused on health care access for Kansans with brain injuries and Kansans with intellectual and developmental disabilities.

Two other KU disability organizations also received grants to increase employment. Read more at Kansas News Service about awards for Assistive Technology for Kansans and the Kansas University Center on Developmental Disabilities.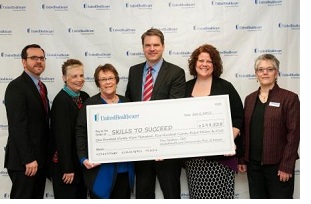 UnitedHealthcare Community Plan of Kansas CEO Tim Spilker (center) presents a check to Employment Systems Change Coalition members (from left) Rocky Nichols, Martha Hodgesmith, Rosie Cooper, Stephanie Breaker and Val Renault.