Research and Training Center on Measurement and Interdependence in Community Living (MICL)
---
This project concluded on March 31, 2014.
---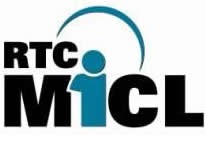 The mission of the Research and Training Center on Measurement and Interdependence in Community Living (MICL) is to increase and enhance the interdependence and full participation in the community of people with disabilities.
MICL research focuses on community participation from a variety angles - including access to health care, the effectiveness of CIL services, and new ways to measure meaningful participation.
Visit our Projects page to learn more about what MICL researchers are discovering and the products they're developing to increase community participation.
New "CHEC" Tool Maps Accessible Community Sites
How do you know if a local pharmacy, bank, shopping center, movie theater or doctor's office is accessible to people with disabilities? 

The CHEC, or Community Health Environment Checklist, is a new tool that provides a way to measure the accessibility of sites in your community and then share that information with others through a Google map.
The CHEC has been used in six Missouri cities to produce information about dozens of sites, and more cities are now being evaluated.
Get Project Info on YouTube
MICL is a project of the Research and Training Center on Independent Living (RTC/IL) at the University of Kansas.
The contents of this website were developed under a grant from the Department of Education, National Institute on Disability and Rehabilitation Research (NIDRR) grant number H133B110006. However, those contents do not necessarily represent the policy of the Department of Education, and you should not assume endorsement by the Federal Government.