Disability Portrayal Issues/Media
---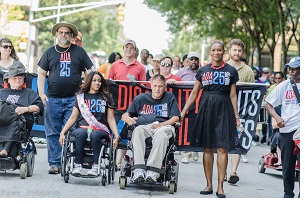 July 26, 2020 marks the 30th Anniversary of the Americans with Disabilities Act. The 9th edition of Guidelines: How to Write about People with Disabilities celebrates this landmark legislation and reaffirms our commitment to its principles. 
First published in 1984, the Guidelines brochure has become a classic on person-first language. It reflects input from more than 100 national disability groups. Portions of the recommendations have been adopted by the Associated Press Stylebook, the American Psychological Association and the American Association for the Advancement of Science.
The companion poster highlights selected entries from the Guidelines. 
Both the Guidelines and the companion poster are available in PDF format or hard copy upon request.
A Spanish translation of the 9th edition is also available.
A Korean translation of the 8th edition is also available. 
Effective and Efficient Research Translation for General Audiences: Literature Review and Recommendations (PDF available upon request)
More than 50 resources were used to produce this synthesis of best practices used in scientific reporting and effective mass audience outreach. Author: C. Higgins
How-To Guide: Condensing and Translating "Researchese" for the General Public (PDF available upon request)
This manual offers writing tips to package research findings for maximum audience impact and includes numerous examples. Author: C. Higgins
Barriers and solutions in reaching general audiences to present research results are discussed in this webcast. Presenters: J. Budde and C. Higgins
Words — both positive and negative — used in reference to people with disabilities are discussed in this report. Authors: A. Darrow and G. White
This brief publication summarizes best practices of science journalism.