Living Well Program Wins Health Equity Contest
Kudos to everyone involved with Our Living Well with a Disability program. It is one of five winners in the Voices for Health Equity contest sponsored by the Center for Health Equity at the Kansas Department of Health and Environment. Read the news release at KHI.
A video highlighting our program will be posted on the Center for Health Equity website in September 2012 and shared with the public health community, health providers, community coalitions and organizations across the state.
---
Teleconference Explores Accountability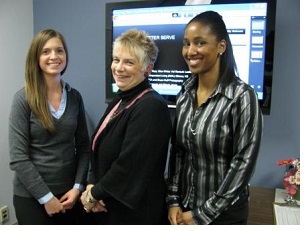 Erica Taylor presented a teleconference for Living Well facilitators on Dec. 7, 2012, titled "Incorporating Accountability to Enhance Outcomes for Participants." Her talk focused on ideas for introducing accountability for their goals to Living Well participants.
Taylor also discussed a guidebook she has developed for personal trainers about working with people with physical disabilities.
As a practicum student this semester at the RTC/IL, she has facilitated a workshop at the Resource Center for Independent Living in Ottawa and has worked to enhance the program's Physical Activity chapter.
Pictured from left: Living Well staff Leslie Schmille and Martha Hodgesmith with Erica Taylor.
---
Living Well Participants Share Their Stories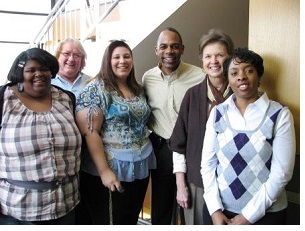 A very big thanks to Living Well participants Dianne Bradley and Veronica Thigpen for sharing their stories with visiting staff members from the Centers for Disease Conrol and Prevention (CDC), which funds the Living Well program.
They made the program come alive by talking about their experiences. Thanks also to their CIL facilitators and administrators who accompanied them: Wilma Christensen and Clarence Smith of Coalition for Independence in Kansas City, and Jo Turner-Moats and Lynn Niehaus of 3 Rivers, Inc.
Read the Living Well Testimonials.
Pictured from left: Veronica Thigpen, Lynn Niehaus, Jo Turner-Moats, Clarence Smith, Wilma Christensen and Dianne Bradley.
---
Living Well Program Featured in "Kansas Connections" 
A newsletter (PDF) published by the University of Kansas Medical Center focuses on rural health education and services in Kansas. Living Well with a Disability is featured in the Fall 2010 issue (see page 4) as a successful health promotion program that is valuable to consumers in rural communities throughout the state.
---
Living Well Participants Profiled in "KU Works for Kansas"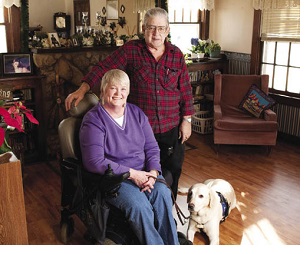 Thanks to Anita and Paul Bjorling of Eureka for sharing their experiences participating in Living Well with a Disability. The University of Kansas has featured them and our health promotion program in the 2010 issue of KU Works for Kansas. This publication highlights the benefits of research and training to citizens across the state.
The Bjorlings and their seven classmates took the workshop offered by the Resource Center for Independent Living in El Dorado (Homepage).
Photo of the Bjorlings and their service dog, Crash, by University Relations
---
Health Promotion at the State Disability Caucus: Kansans with Disabilities CAN Be Healthy!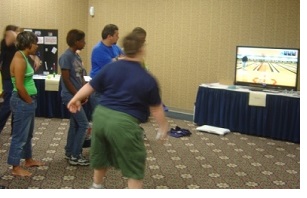 On Aug. 13, 2009, the RTC/IL and the KDHE Bureau of Health Promotion sponsored a Health Promotion Room at the State Disability Caucus. The exhibits were designed to inspire and inform attendees to advocate for their own health.
People who visited the room were able to have their blood pressure checked, learn how Wii Sports can support their health, and gather information about prevention, nutrition and physical activity. Thanks to the following exhibitors:
Agency for Healthcare Research & Quality
Best Buy
Blue Cross Blue Shield of Kansas
Dillons
Health Realization
Kansas Bureau of Health Promotion (BHP) – Diabetes Kansas BHP – Cancer
Kansas BHP- Heart Disease and Stroke 
Kansas BHP – Tobacco Use Prevention 
Kansas BHP – Physical Activity & Nutrition
Kansas BHP – Injury Prevention
National Alliance on Mental Illness
National Center on Physical Activity and Disability 
Oral Health Kansas
Stormont-Vail HealthCare
Shawnee County Community Extension Office 
Three Rivers Center for Independent Living
Topeka Independent Living Resource Center
Wal-Mart